Door: Jolanda Boekhout


| 22 april 2020 | Nog geen reacties >
Bijna iedere nieuwe post begin ik, geloof, ik met dezelfde zin…. goh, wat is het weer lang geleden dat ik een blogpost heb geschreven. Ook nu. Wat is het weer lang geleden. Ooit was het mijn maandelijkse 'kindje' en wat mis ik dat schrijven eigenlijk. Toch echt zijn er wel dingen die ik doe (expositie Kunstkring, Catfulness, Picture Black & White, Picture Home.). Ik fotografeer nog steeds dagelijks met mijn iPhone. En kortgeleden heb ik mijn Nikon D700 opgepakt. Heerlijk om weer eens te fotograferen in zwartwit.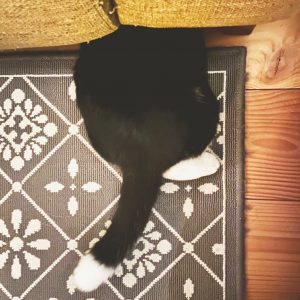 Day 45. "Ignore aggravating people. To keep a calm spirit avoid the presence of stressed and noisy types. People who love silence and cuddling are the best to be with. So ignore to prevent stress." 'That doesn't mean you need to hide underneath the couch… I don't know what I've done wrong. I'm an easygoing sweet person that loves cuddling and I take care of breakfast, lunch and dinner.'
Maar wat ik vandaag wil delen, is dat ik zeven ontzettend leuke weken heb doorgebracht met een leuk boekje, Catfulness, hoe een kat ons kan leren gelukkig en mindful te leven" van Paolo Valentino en Marianna Coppo, en natuurlijk met het fotograferen van onze katten. Ik kreeg het boekje van Eric voor de Kerst. Het is en inspirerend boekje dat je zeven weken meeneemt in hoe je relaxt leert leven zoals een kat dat doet.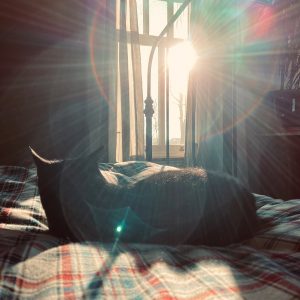 Day 7.5. "Sunday rest." 'End of week one. Not thinking about Monday…'
Iedere start van een nieuw jaar begint het altijd bij me te kriebelen. Wat ga ik dit jaar fotograferen?
Ik volg al een aantal jaar het dagelijks leven van mijn katten. Dat begon met een jaarproject, #a365withmycats, op Instagram in 2014. Eric, mijn lieve partner, haalde zijn wenkbrauwen op toen ik hem vertelde dat ik een jaar onze katten ging fotograferen. 'Gaat dat wel lukken? Is hun leven leuk genoeg? Dat zijn 365 dagen dat je de katten moet fotograferen."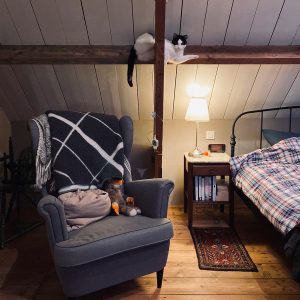 Day 4. "Always be curious. You might be able to discover what unknown creatures climb to the top." 'Well… we walked the forest and took an unknown route. And we picked some seaweed from the beach to use as 'manure' instead of using animal poo. We might get surprised in Spring. But that is not as exciting as to discover what spiders live up high in the bedroom.'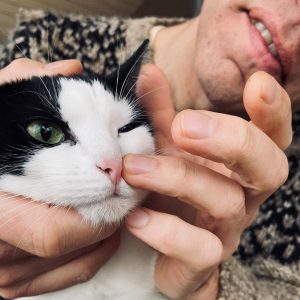 Day 26. "Keep your home clean. Your home is your domain where you should feel serene, peaceful and happy. Cleanliness and tidyness is reflected into yourself and you can recognise your emotions easier." 'With four furry friends in the home I need to hover almost every day. Which makes me feel a lot better afterwards. But keeping your body clean is important too. Eric loves to clean Teddy's nose after she's stuck it in the dirt in the garden.'
Nu zes jaar en een hele verzameling ontzettend leuke foto's, filmpjes en herinneringen later, fotografeer ik mijn katten nog steeds. En dus was het voor mij een logisch gevolg dat ik de zeven weken 'catfulness' samen met mijn vier katten zou gaan doen. Zij zijn tenslotte de beste leermeesters. Overigens ook zonder het boekje Catfulness.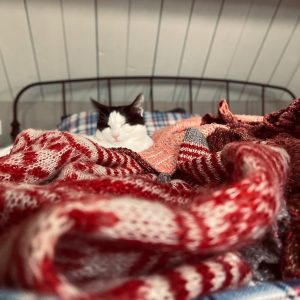 Day 10 "Don't be tempted by wanting to have a busy lifestyle. A filled calendar, lots of travel and being in sophisticated circles might be more fascinating than your own life. But life smiles upon you when you don't have a lot to do or doing the same things often." 'Doing the laundry isn't a very sophisticated job of course but it can be a lot. But, no laundry for me today. Because this little lady uses it as her sleeping bag with a big smile on her face. I will do the same…'
De zeven weken zijn voorbij gevlogen. Het 'mini-project' is alweer klaar. Omdat ik er enorm van genoten heb, deel ik een aantal foto's hier. Misschien krijg je zin om zelf aan de slag te gaan.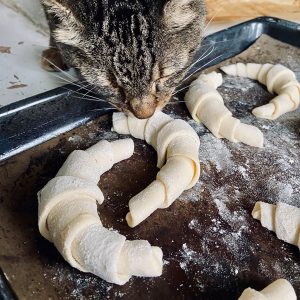 Day 36. "Love yourself. Never forget who you are and always think about your own happiness and your own heart's desire. When you're happy it will reflect on the people surrounding you." 
'Our cats always show us how they feel and want they want. Most of the times I'm happy to oblige. Piet loves to eat. A lot qualifies as a snack for him, even unbaked croissants. It feels a bit unfair to deny him this because I want him to eat healthy food, as we most of the time do too. But loving yourself means treating yourself sometimes to a snack. Lucky for Piet some cat nibbles are always close.'