Door: Jolanda Boekhout


| 20 februari 2013 | Nog geen reacties >
English version here >>
… op een andere manier dan hoe ik dat normaliter met mijn modellen doe.
Ik ben, zoals je wellicht hebt opgemerkt, verslaafd aan iPhoneography, en Instagram, Hipstamatic en Snapseed in het bijzonder. Dagelijks fotografeer ik met mijn iPhone. 31 December 2012 heb ik zelfs een 365-project afgerond.
Mijn eigen katten zijn regelmatig te zien in mijn photostream op Instagram. Het dagelijkse leven van mijn katten is een geliefd onderwerp. Al mijn katten hebben inmiddels hun eigen 'hashtag'. Ik hou er van om mijn foto's te bewerken met filters in apps zoals Snapseed en Instagram. Je kunt er je foto's een speciaal gevoel mee geven. Vierkante beelden zijn vaak ook veel krachtiger dan beelden op landscape of portrait formaat.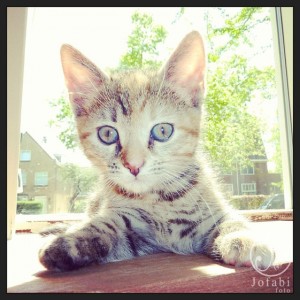 Mijn laatste blogpost ging over de mooie Smilla en Grace. Voor de fotosessie vertelde de eigenaar van Smilla dat ze voor Smilla en Mijntje twee andere katten had, Mora en Knut. Ze vroeg me of ik op een zodanige manier foto's van Smilla en Mijntje kon maken dat die mooi zouden passen bij haar eigen foto's van Mora en Knut.
Je zou mijn stijl van fotograferen enigszins uniek kunnen noemen. Als kunstenaar zou ik dan ook niet willen overwegen om beelden te schieten in een andere stijl dan mijn eigen stijl. In mijn eigen stijl ligt mijn kracht. Ik vind ook dat iedereen op een andere manier kijkt en fotografeert. Zo denkend bood ik mijn cliënt een andere oplossing aan: JofabiPhoneography.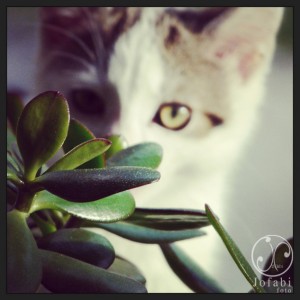 In 2012 heb ik voor het eerst foto's van een cliënt bewerkt op mijn iPhone. Kirsten, de eigenaar van Dali had Dali wel gefotografeerd met haar telefoon, maar die foto's waren van minder goede kwaliteit. Graag wilde ze een foto op canvas laten afdrukken. Ze vroeg me of ik haar kon helpen. Onmiddellijk kreeg ik het idee om haar foto's te bewerken op mijn iPhone. Voor Kirsten creëerde ik een serie van zes foto's met vier verschillende filters. De serie van Dali was uiteindelijk te klein om op canvas af te drukken, maar de 20x20cm fotoprints zijn uiteindelijk ook heel mooi geworden.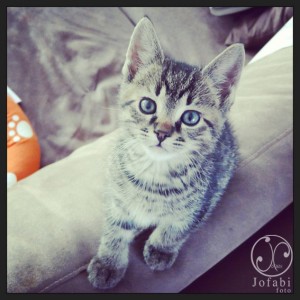 De eigenaar van Smilla zag wel wat in mijn voorstel. Voor de serie van Smilla en vriendjes koos ik vier kittenfoto's en ging aan de slag. Ik heb drie verschillende Instagram filters gebruikt, Earlybird, Amaro en Inkwell. De bewerking met de Instagram filter Amaro zie je hier. Ook deze keer is het resultaat speciaal geworden.
Lijkt het je leuk om jouw foto door mij te laten bewerken? Wil je JofabiPhoneography uitproberen? Mail me!
Tip: als je foto's maakt met je telefoon zorg dan dat je met de 'native' camera fotografeert. 'Native' wil zeggen de camera van je telefoon. Zo worden je foto's op de hoogste resolutie opgeslagen. Sommige apps slaan foto's namelijk op in een kleiner formaat. Zeker als je foto's in verschillende apps bewerkt of knipt, en nog leuker, als je je foto wilt afdrukken, dan heb je een zo groot mogelijke formaat foto nodig.