Door: Jolanda Boekhout


| 7 september 2012 | Nog geen reacties >
"De wijsheid van Tinky Isabel. Die wijsheid heb ik ontmoet tijdens de coachingsessie. Het was zo moeilijk om te doen. Niet wetend wat ik aan 'moest' met een paard dat geen stap meer wilde verzetten maakte me dat ik me machteloos voelde. Het was als 'trekken aan een dood paard'. Net zoals de werkelijkheid voelde. Tinky en Astrid hebben me laten zien dat terugkijken naar het verleden mag. Dat leven in het hier en nu belangrijker is. Spelen, je goed voelen, dat je mag zijn wie bent, vrij zijn, dat liet Tinky me zien. Tinky's les blijft me bezig houden. Het gaat met kleine stapjes, maar Tinky heeft me aangeraakt, me iets laten voelen dat me zelfverzekerder maakt. En ik leer ook steeds meer te zien en accepteren waar de essentie van mijn boosheid vandaan komt. Dat ik boos mag zijn. Dat is toch prachtig!"
'spelen, je goed voelen, zijn wie je bent'
Hoe kom ik hier nu bij zal je denken?
Eén van mijn vorige blogpost ging over meditatie met je hond. Eén van de dingen die in die post wordt genoemd is dat het zo mooi is om mensen te laten ervaren dat dieren hun emoties en spanningen spiegelen.
Nu ervaar ik dat zelf ook in veel van de fotosessie die ik met dieren doe, dat spiegelen. Ik voel een klik met dieren waardoor er waarschijnlijk een luikje bij me open staat en het contact altijd bijzonder is. Dieren kunnen me ook altijd enorm troosten als ik me verdrietig voel.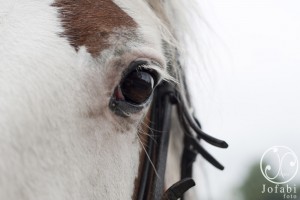 Kortgeleden had ik een ontroerende ervaring met een paard die het prachtig vindt om mensen met zichzelf in contact te brengen. Juist door te spiegelen. Tinky Isabel is een Ierse Tinker die, samen met haar vriendin Astrid Loriaux, als coach werkt  om mensen te helpen die niet lekker in hun vel zitten. Of, wel lekker in hun vel zitten, maar iets over zichzelf willen leren.
Wil je meer weten over paardencoach Astrid en Tinky? Astrid heeft een mooi stuk geschreven over haar werk als coach.
"Stel, je maakt promotie op je werk en je krijgt ineens de leiding over een hele afdeling: leuk, maar ook spannend! Of stel, je hond wordt plotseling ziek en moet helaas worden ingeslapen. Of stel, je relatie met je puberende dochter bestaat tegenwoordig voornamelijk uit ruzies. Of stel, je vindt je baan eigenlijk niet leuk meer, maar je weet niet wat je wel leuk vindt. Herkenbaar? Op zich geen onoverkomelijke problemen maar toch wel zo vervelend dat ze je plezier in het leven behoorlijk kunnen vergallen, dus je wilt er eigenlijk wel wat aan doen. En het zou toch fijn zijn als er iemand is die je daarbij kan helpen…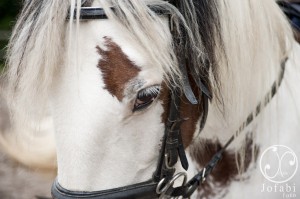 Ik ben paardencoach (officieel: equine assisted coach). Mijn paard en ik helpen gezonde mensen die met een probleem of levensvraag zitten en wel wat hulp willen bij het vinden van een oplossing of antwoord. Hoe doen wij dat? Door je te helpen zelf het antwoord of de oplossing te vinden. Wij denken namelijk dat je die allang weet, ergens diep van binnen, maar je kunt er alleen niet bij. Door een activiteit te doen met mijn paard, geeft zij jou de feedback die je nodig hebt om je ervan bewust te worden hoe bijvoorbeeld anderen op jou reageren. Of dat nu collega's zijn, je puberende dochter of je partner. Jij kunt dan bedenken waarom je zo handelt. Is dat je bedoeling? Krijg je daarmee de reactie die je wilt, of niet, en als niet, wat kan/wil je dan anders doen? Je kunt rustig zoeken naar inzichten en antwoorden en eventueel experimenteren met andere acties/reacties. Je kunt in alle veiligheid uitzoeken wat je nu eigenlijk belangrijk vindt in je werk of je relatie en welke consequenties daaraan zitten. Je kunt werken aan de verwerking van een belangrijk verlies, zodat je het kunt loslaten.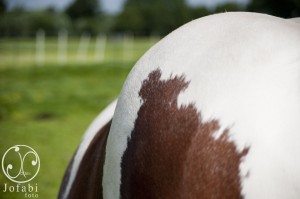 De reacties van paarden zijn heel direct en puur; ze worden niet gehinderd door 'sociaal correcte antwoorden', of eigen verborgen agenda's. Een paard leeft in het hier en nu en reageert op dat wat jij laat zien, bewust en onbewust. Aan alle maskers die wij ons in de loop van de tijd hebben aangemeten om onszelf te beschermen tegen de buitenwereld heeft een paard geen enkele boodschap. Hij ziet jou zoals je bent en met die persoon gaat hij de interactie aan: zuiver en eerlijk. De uiteindelijke boodschap van iedere coachsessie is dan ook: DIT BEN JIJ. Of en wat je met die persoon wilt doen, is aan jou en aan niemand anders.
Astrid Loriaux"
Zou je zelf een coachingsessie met Tinky en Astrid willen beleven? Dat kan. Op haar website vind je alle informatie die je nodig hebt. Heel veel plezier!