Door: Jolanda Boekhout


| 21 juni 2011 | Reacties (2) >
We wish we could have told you in words you'd understand,
we wanted you to stay with us.
This wasn't what we'd planned.
We wish that we could tell you how empty we now feel.
A part of us went with you,
a part that time can't heal.
We wish we'd once more hear you and your softly, rumbling purr,
and hold you on our laps again and stroke your silken fur.
We wish we had you back again,
to fill this empty space,
but one day we'll be together in a far, far better place.
Vorige week woensdag was een verdrietige dag. Heel onverwachts en veel te snel hebben we afscheid van elkaar moeten nemen.
Dat je er niet meer bent is ondenkbaar en onwerkelijk. We zijn 17 jaar samen geweest en dat je weg zou gaan leek nog zo ver weg.
Twee epileptische aanvallen heb je meegemaakt in één maand. Na de laatste aanval was je veerkracht er niet meer. Jouw vertrouwde zelf verdween binnen korte tijd en ik voelde dat je niet lang meer zou blijven. Veel te snel hebben we de beslissing moeten nemen om je te laten gaan.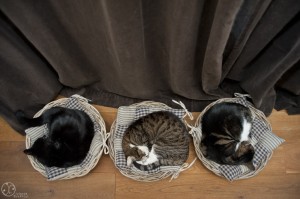 Tijd samen is nooit lang genoeg, dat voel je als het einde nadert. Ik had niet verwacht dat je al zou gaan. Ik ben er nog niet aan toe om zonder jou verder te gaan, lief jochie. Jij bent zo'n deel van mij dat het voelt alsof er in mij iets mist. Een deel van mij is weggegaan met jou.
Het voelt zo vreemd dat je weg bent. Je niet meer in je vertrouwde mandje te zien liggen, niet meer je aanwezigheid te horen als je naar buiten wil of water wil drinken in de douche doet pijn. Zeventien jaar ben je mijn beste maatje geweest. Je was een bijzonder ventje. Altijd dichtbij me. Aandoenlijk, verlegen liefdevol en met zoveel liefde voor mij. We waren een eenheid. Je bent zelfs Eric gaan waarderen in de negen jaar dat je hem kent en andersom ook.
Je kennismaking met de katten van Eric ging wonderbaarlijk goed. Je gedroeg je gepast onverschillig en was een lieve wijze kater. En iedereen had een liefdevol respect voor je. Puk was dol op je. Na een keer samen met haar in de rieten mand te hebben doorgebracht was het ijs gebroken. Van Tom kreeg je gisteren nog een afscheidslik over je bolletje. Binnen was je een watje en buiten een stoere macho. Zelfs op de laatste dag wist Poppy niet hoe snel ze zich uit de voeten moest maken toen je nog een rondje door de tuin maakte. Je had geen flauw benul van je uitstraling.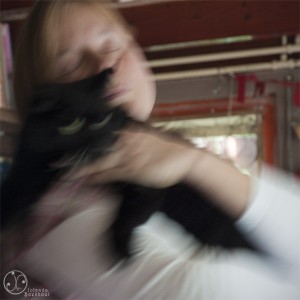 Samen zijn met jou maakte me gelukkig. De verbondenheid die ik met je heb is zo bijzonder. Ik voelde me blij, warm en veilig als je bij me was. En jij was ook dol op mij. We dansten samen op mijn favoriete muziek. Je hield er van om je uit te rekken in mijn armen. En je bent de enige kat die ik ken die zo lekker rook. Ik hield er van om mijn neus in je nekje te verstoppen en je geur op te snuiven. We hebben intens van elkaar genoten. Eric vertelde me gisteren dat hij aan je kon zien hoeveel je van me hield. Onze band was speciaal.
De laatste weken was je nog meer op mij gericht. Gelukkig heb ik je al de aandacht kunnen geven die je nodig had. En je extra lekker eten geven op het moment dat je trek had.
Op momenten zoals deze is de hoop op een leven na de dood groot. Je niet meer dicht tegen me aan te houden en te knuffelen, je lekkere geur te ruiken en je bijzondere, dikke zwarte staart te voelen doet zo'n pijn.
Vandaag regent het. Dat voelt goed. Het is een passend afscheid voor jou, want mijn hart huilt om jou. Jij hebt een speciaal plekje in mijn hart Jesse. Het draadje dat ons verbindt is onbreekbaar en zal blijven bestaan. Ik mis je en zal altijd van je blijven houden. En ik hoop dat Tipsie en mam nu bij je zijn om jou te troosten.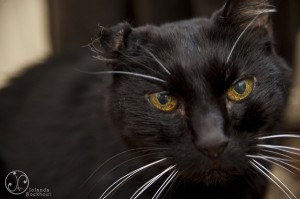 Als mijn tijd gekomen is dan zien we elkaar weer terug. Lieve schat, lieve Jessebesse ik hou zielsveel van jou! Dank je wel voor onze liefdevolle tijd samen.
Jolanda