Door: Jolanda Boekhout


| 20 maart 2012 | Reacties (4) >
Some years ago I received a link from a friend of my partner with the comment that I needed to open the link because I absolutely would love the content. It was a link to the Caboodle Ranch in Florida.
Full of excitement I opened the link and entered a pretty special place. Caboodle Ranch is a sanctuary for cats that was unintentionally created in 2003 by one man, Craig Grant.
Craig's lifestory was pretty special too. He wasn't a catlover at all, but got care over his son's cat Pepper unexpectedly when his son went to college. After a while Craig discovered Pepper was pregnant. After five kittens were born Craig gradually changed. He started to grow to love the cats. When neighbors complained about the cats he decided to look for another home. He soon found five acres of land at a tree farm in the middle of nature.
"Roam free, climb trees and be happy"
Craig bought an office trailer as a shelter for the cats. His idea is that cats need to be able to roam free, climb trees and be happy. Through time Craig built tree fortresses, hiding shelters and created a nature trail on the ranch. Gradually more cats came to live at the Ranch. Craig adopted neglected and stray cats from the neighborhood and from the places he worked as a contractor. People heard about Caboodle and brought more cats, cats they couldn't take care of anymore, abused and neglected cats. Craig has sold his company to his son and has retired. His life is all about Caboodle Ranch now and taking good care of his Caboodles. By now the Ranch has grown into 30 acres with 600 cats.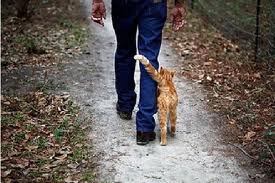 Last week I planned to write about Caboodle. I don't visit Caboodle's website every week so when I visited the site I got struck with horror. I read that Caboodle had been cleared by ASPCA and that Craig has been accused of animal abuse. That is something I couldn't believe. It seemed that an PETA inspector worked as a volunteer for some time to gather undercover evidence of neglect. How can cats be neglected when they look so happy? When so many animals live in an area as big as Caboodle Ranch it is normal that there are sick animals now and then. With regular intervals a vet visited the ranch, treated the sick, neutered and vaccinated.
On Caboodle Ranch's site you can find some pretty amazing videos. Here is one of them:
I am a true catperson. Grew up with cats and feel connected to animals. I believe that an unhappy cat won't stay when he gets the chance to leave. Serving his favorite food won't make a difference. Holland and Florida aren't next door and the only information I get is from the internet. A good friend who lives in Florida investigated my findings for me and unfortunately confirmed what I already had discovered.
Last year I had thought about going to Caboodle Ranch to work as a volunteer for a month or so. Unfortunately I couldn't go and I truly regret that now.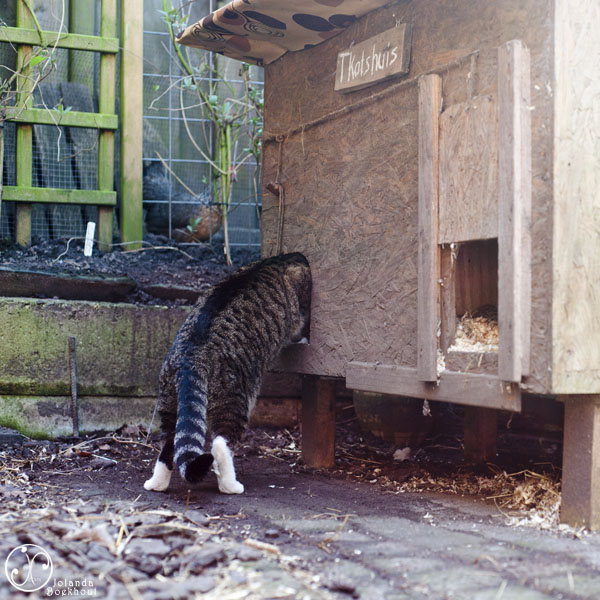 For years now Eric and I have got two stray cats living in our garden, Blackie and Poppy. Our 'mini-Caboodle' doesn't resemble the real Caboodle by far. But I can imagine that Poppy and Blackie must feel like the Caboodles. Being close to us all the time and feel happy. They can roam free and are taken well care of. Both are neutered, chipped and vaccinated. Poppy, who was a wild cat when I first met her in 2006, got life threatening ill last year. I had to take her to the vet for more than two weeks for a daily kidney flush. Having gone through this ordeal she is still with us, by her own choice.
Like to know more about Craig and Caboodle Ranch? Visit Caboodle Ranch and judge for yourself. On the live journal of Caboodle you can follow new developments in the situation.
I still have warm feelings for Caboodle Ranch, just because it feels right. I hope that Craig will get the opportunity to rebuild Caboodle. Be sure I'll be there then.