Door: Jolanda Boekhout


| 5 maart 2012 | Reacties (1) >
Last week I mentioned that I would write something about 'communicating with animals', not knowing that moment would be so soon. Communicating with animals? Isn't that something you do with your pet daily? Yes, that is correct. But there is another way to communicate with your pet, an unconscious way that can be changed into an purposeful way.
In 2008 I participated in the class 'Telepathy with Animals' by Cecilia van der Drift. Purely out of interest, because I feel connected with animals, but also with the thought in mind that it could be useful in my work as an animal photographer.
After the two-day class my feeling was one of doubt. Generally I have difficulty to find the peace inside myself for meditation. Also interpreting my subject's signals correctly made me doubt myself about being able to connect. Until one meditation I met a very direct German sheepdog. 'If you don't believe you can talk to me why should I talk to you?' That was a startling moment and also one of sinking in that I could never have said that to myself.
'Sky, what is your favorite toy?'
In my career as animal photographer I encountered failure in a photo shoot only a few times. One time a photo shoot didn't happen because my model had disappeared behind the couch from the moment I stepped in the house. At a second attempt a week later I could move the couch a little without Balou looking for a new hiding place. Before this attempt took place I tried to contact Balou to explain what my intentions were. That it was safe and I would be calm.
On several occasions I noticed that unconscious contact moments had happened with my model. The Labrador pup Beer (Dutch for Bear) surprised me, and his owner, at the first moment we met. The enthusiastic way he greeted me wasn't the normal behavior he showed while greeting new people. I 'just' had been thinking about him a few times.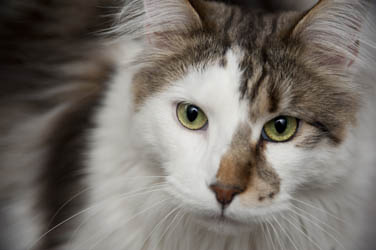 Two weeks ago I used telepathic contact with an animal deliberately and with a purpose. Desiree emailed me that she would love to do a photo shoot with her cat Sky, a beautiful Maine Coon, but that she doubted it would be possible. Sky happened to be frantic for new people and sounds. Sky is two years old and has had a bad start after leaving home. He was brought to an animal shelter, where Desiree found him. Sky had been very open and cheerful as a kitten, according to the cattery he was born, and his change in behavior seemed strange.
Would 'dialing in' to Sky be of any use? Telepathy with animals is an undefinable matter for many people and not everybody is open to believe so it is always important to scan whether I can mention it or not. And if so how do I bring it up?
I was very anxious to meet Sky and would love to do a successful photo shoot so I decided to pop the question to Desiree. She loved the idea. To see if I really had contact with Sky we thought of a question that I couldn't know the answer to. 'Sky, what is your favorite toy?'
The telepathic contact I had with Sky was so sweet. First I got an image of the favorite toy and then a beautiful color appeared. To prove I saw it right Desiree sent me a photo of the toy, a grayish brown mouse with pink ears, which made me burst with laughter. Yes, that is what I saw! And also the color was right. It was the color of the wall in the bedroom in which Sky liked to cuddle before bedtime.
I also got an answer on my question about why Sky was so scared of people and sounds, but it's difficult to verify because Desiree doesn't have much details about his background. It is knowing and guessing at the same time.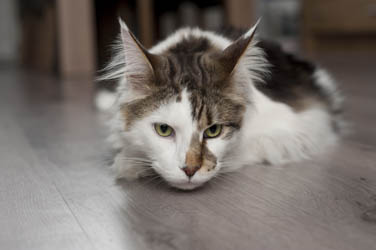 A day before the shoot I had another go at 'talking' to Sky. That second moment was also successful. I showed myself, my big black camera and told him there would be some strange noises. And I announced to bring a gift for him. Sky showed he loved to 'work' together and also passed the message that Desiree didn't need to worry about him. He felt like a peaceful and contented little boy.
That is how I found him the next day. While I was searching in my bag for the gift Sky was around without showing any signs of shyness or fear. I fully enjoyed the shoot with Sky and his playmate Meisje. It happened to be an hour filled with play and joy and the result is gorgeous. More of the result can be found on my portfolio page.
Thanks Sky, for trusting me and for the beautiful teamwork!