Door: Jolanda Boekhout


| 28 februari 2011 | Reacties (5) >
On the 1st of March it's Jofabi Foto's fifth anniversary. It is unbelievable how time flies when you are working with passion.
Five years ago I started with some 'test' photo sessions. I had no idea if the need existed for an animal photographer at home and if it was possible for me to create a connection with an animal in a short time. The reactions I got were positive enough to continue animal photography in a serious manner.
"5 prints to be won by happy commenters"
With ups and downs I lived through the first years. From time to time I doubted my abilities as a photographer. Every time the sessions ended up (almost) with such a wonderful result that I had to carry on.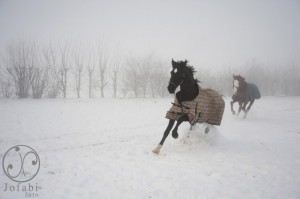 Luckily doubting myself has disappeared. The feeling of going home with 'the loot' has stayed however. Not only working with animals is magic, but also looking through the result of a photo session is a gift. Especially with working with animals the result is never exactly the same and therefore there is always a healthy tension tangible.
With some exceptional occasions I am almost always pleasantly surprised.
I don't want to let this lustrum pass by without celebrating. Not without you. There are 5 prints to be raffled among those who will leave a word of love with this post: a 30x45cm/30x30cm photo print and four passe-partout cards.
The five lucky commenters will receive a personal message and may pick their own favourite shot from my portfolio.
And the lucky winners are Siobhan, Jenn and Jan!! Congratulations!! You will receive a personal email with the what and how. Thank you for commenting!